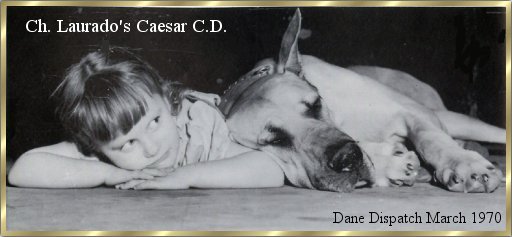 Welcome to Laurado Great Danes, Registered
The original Laurado Great Danes was started in the 1950's and was owned by Hazel Mage, so there are now over 60 years of champions carrying the Laurado name. It produced numerous champions and obedience title Danes, including some in the National Top Ten. Several people, still active in Danes today, got their first champion from the kennel or from Laurado stock.
I started living at Laurado Kennels at age 12 and lived and worked there for periods of time over the next 10+ years. As Hazel aged and was able to do less, she allowed me to continue the kennel's line and name. The Laurado line has continued on a limited breeding basis.
I had my first homebred champion in 1981 and there have been a series of conformation champions since. We believe in health tests and feel we are doing a good job of producing Great Danes with sound conformation and temperaments. All pups are started in a family atmosphere.
I am an AKC licensed judge and parent club approved mentor for Great Danes, but also judge Siberian Huskies, Boxers, and Junior Showmanship. I am working on becoming licensed for other Working breeds.
We are members of The Great Dane Club of America, The Great Dane Club of Mat-Su Alaska, The Great Dane Club of Western Washington.
We are located in Northeast Washington. Our phone numbers are: (509) 684-8091 (home) and (509) 389-2631 (cell).
Katie Edwards
Laurado Great Danes is an AKC Breeder of Merit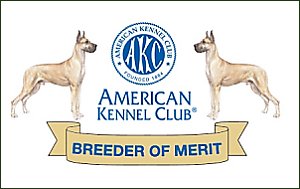 The AKC Breeder of Merit Program honors breeder/exhibitors' dedication and hard work as they continue to produce dogs that are healthy, capable, and beautiful.
The foundation of today's AKC, Breeders of Merit have the power to influence, guide, and teach future breeders, exhibitors, and all purebred dog owners.
Poured Concrete Dane Head Statues
Measurements: 16 3/4" Tall X 16 ". Weight: 36 lbs.

They have a hole in the bottom the size of a piece of rebar for stabilization on top of stone or concrete pillars. Even though these are done in concrete and designed for outdoor use, we recommend they be coated with a sealant appropriate for statuary.

Price: $98.00 each + shipping, packing and insurance.
Call (509) 684-8091 (home) or (509) 389-2631 (cell) to order.