AM/CAN Ch. Laurado's Hi Mynt'nance Woman ROM
"Hannah"
We lost Hannah May 28, 2012 a couple days after her 10th birthday.
She was the 2nd Top Producing Bitch in the U.S. for 2010.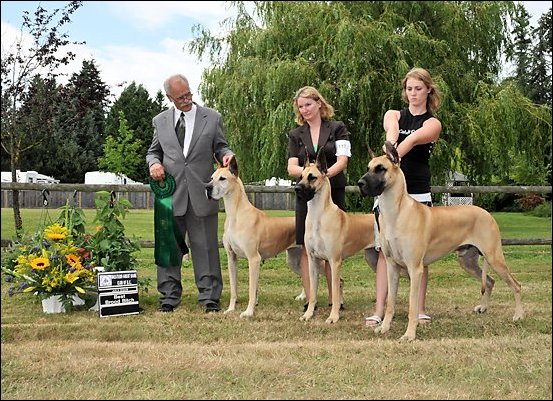 At 7 years old "Hannah" got to go to one more dog show - the Great Dane Club of British Columbia Specialty.
Shown taking Brood Bitch class with daughter "Ritz", Grand and Can. Ch. Laurado's Dragonfly, and "Dart", Am. Can. Ch. Laurado's What 'N Blazes.
Ritz took Best In Sweeps, Winners Bitch and Best Opposite and "Dart" took Winners Dog and Best of Winners that day.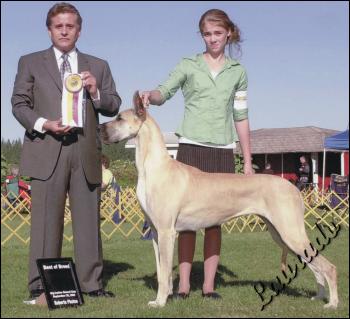 Call Name "Hannah"
Date of Birth: May 26, 2002
"Hannah" is shown by 14 year old Shannon Edwards.
She is a multiple Breed winner and Group placer.
Hannah has only produced 11 puppies,
5 obtained their championships and two others are either pointed or major pointed.
Pedigree
BIS, BISS Am. Can. CH. WYNTREBROOK'S SUNDANCER

Fawn

WP558955/01

1998 Top 20 Winner

1999 BoB Westminster

1999 #2 Stud Dog

Hip OFA GD-5955G24M

Thyroid Normal

Cardio OFA GD-CA17/29M/C

CH. MAITAU'S TOP BILLING ROM

Brindle

WP325825/08

OFA 35G

CH. SANDALE'S WHAT A GUY

Fawn

WF705504

CH. SHEENWATER GEORGIA PACIFIC

Fawn

WF381347

Murlo Sybil of Sandale

Fawn

WE937581

Maitau's Village Gossip ROM

Brindle

1993 GDCA Top Producing Brood Bitch

WG186491

CH. DUNDANE'S BACARAT V BROOKSIDE

Brindle

WF552280

CH. MAITAU'S TATTLETALE

Fawn

WF753906

CH. WYNTREBROOK'S WYNDANCER

Fawn

WP346255/03

CH. HONEY LANE'S CASABLANCA

Fawn

WF830956

CH. HONEY LANE'S GO FOR IT

Fawn

WF487454

CH. HONEY LANE'S SYLVIA V RIMAC

Fawn

WF518893

CH. WYNTREBROOK'S WHITNEY

Brindle

WG144306

CH. OAK HILL'S KILIMANJARO

Brindle

WF851106

Oak Hill's Misty Harbour

Fawn

WF827176

Fawn

WP13597/02

Mulitple Breed Winner and Group Placer

CERF GD-873/2002�35

Hips X-rayed Normal

Thyroid Normal

BIS BISS CH. OAKSTONE'S ROCK OF GILBRALTAR

Fawn

WP621106/07

1997 #1 Male USA

1999 National Specialty Winner

Hips OFA GD-6733G47M-T Good

BIS BISS CH. OWLWATCH AZTEC SUN

Fawn

WP317432/01

1994 National Specialty Winner

Hips OFA GD4986F33M Fair

CERF GD-359

CH. DUNDANE'S BACARAT V BROOKSIDE

Brindle

WF487454

CH. ANNAN'S BRANDYWYNE CCS

Fawn

WF487454

CH. LIMERICKS LOVESONG

Fawn

WF487454

Sandale Largo's All That Jazz

Fawn

WF487454

Willowdane's Fable Von Raseac

Fawn

WF487454

Fawn

WF487454

Hips X-rayed Normal

CERF GD-357/96-21

CH. TEMPLE DELLS LAURADO DAVIS

Fawn

WF487454

Hips X-rayed Normal

CERF GD-343/96-42

BIS CH. DON-LU'S PREFERRED RISK

Fawn

WF487454

#1 USA 1991

OFA40G

BISS CH. TEMPLE DELL'S STARFIRE

Fawn

WF487454

1992 Award of Merit

OFA27G

McMurtry's Lass of Laurado

Fawn

WF487454

Two 5 pt. Majors

Laurado's Royal Prince Eric

Fawn

WF487454

Rikas Irresistibly Irish

Fawn

WF487454