Ch. Laurado's Firefly Dreams
"DAPHNE"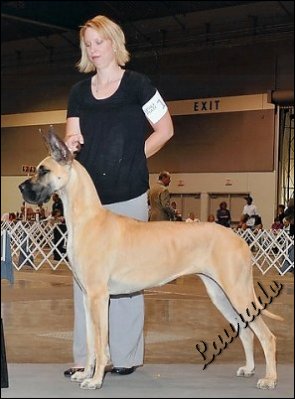 "Daphne" was owner/handled to her championship from the Amateur Owner handler class by Andrea Thompson.
She finished with 3 majors and a Best of Breed over 4 specials.
Daphne is owned and owner handled by Matt and Andrea Thompson.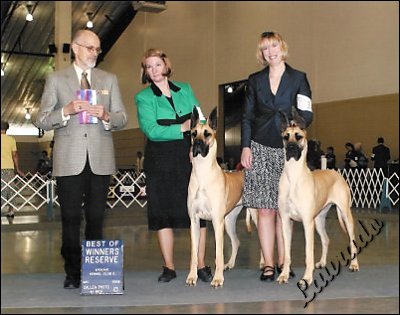 Daphne is on the right with sister, Grand and Can. Ch. Laurado's Dragonfly, on the left.
The "Twins"
DOB 5-09-08
Health Test Results
Test
Rating
OFA Hips
GD-11321G25F-PI
OFA Cardiac
Normal GD-CA2167/22F/C-Pl-ECHO
CERF
GD2316N/2009-16
PEDIGREE
Sire
BIS-BISS CH. SERVADEI ELECTA KAHNSON OF THOR

OFA Hips Good
OFA Elbows Normal
CERF GD-183 (92,95,97)
Sire 24 Champions
Lived age 10 yr 2 mo

Sire
CH. WARWICKS THOR BODANE

OFA Hips Fair
Sire
CH. SHEENWATER GAMBLE ON ME

OFA Hips Good
Sire
CH. REANN'S FRENCH ARISTOCRAT
Dam
CH. STONE RIVER'S DELTA DAWN
Dam
CH. WARWICKS AMPLE DUMPLING

OFA Hips Excellent
Sire
CH. BRIER'S DUESENBERG V HAUER

OFA Hips Normal
Dam
CH. WARWICKS HESTER
Dam
CH. WARWICKS JELLY SIDE DOWN

OFA Hips Excellent
Sire
CH. PENEDANE WINFAL EXACTA V MAKO

OFA Hips Excellent
Sire
CH. SHEENWATER GAMBLE ON ME

OFA Hips Good
Dam
CH. SALTWATER'S DOUBLOON
Dam
CH. KAIDANE WARWICK NOCHEAPDATE

OFA Hips Good
Top Producer USA 1990
Sire
CH. WARWICK'S GRUMMAN
Dam
CH. KAI-DANES LINA B LOVETT

Hips X-rayed Clear
Dam 9 champions
Lived 11+ yrs.

Dam
AM. CAN. CH. LAURADO'S HI MYNT'NANCE WOMAN ROM

OFA Hips Good
OFA Cardiac Normal
CERF GD-872/2002-6
Thyroid Normal

Sire
BIS-BISS AM. CAN. CH. WYNTREBROOK'S SUN DANCER

OFA Hips Good
OFA Cardiac Normal
Thyroid Normal
1998 National Top Twenty Winner
1998 #2 Stud Dog USA
1999 Westminster BoB Winner

Sire
CH. MAITAU'S TOP BILLING

OFA Hips Good

Sire
CH. SANDALE'S WHAT A GUY

Dam
Maitau's Village Gossip ROM

1993 GDCA Top Producing Brood Bitch


Dam
CH. WYNTREBROOK'S WYNDANCER

Sire
CH. HONEY LANE'S CASABLANCA




Dam
CH. WYNTREBROOK'S WHITNEY

Dam
CH. LAURADO'S IRISH MISTIQUE

Hips X-rayed Normal
CERF GD-873/2002--35
Thyroid Normal

Sire
BISS CH. OAKSTONE'S ROCK OF GIBRALTAR

OFA Hips Good
#1 Male USA 1997
National Specialty Winner
Westminster BoB Winner

Sire
CH. OWLWATCH AZTEC SUN

OFA Hips Fair
CERF GD-359
1994 National Specialty Winner

Dam
CH. LIMERICKS LOVESONG




Dam
CH. LAURADO'S IRISH MS TEEGAN

Hips X-rayed Normal
CERF GD-357/96-21


Sire
CH. TEMPLE DELLS LAURADO DAVIS

Hips X-rayed Clear
CERF GD-343/96-42
Group Winner & Placer
Lived 9 yr 10 mo


Dam
McMurtry's Lass of Laurado

Hips X-rayed Clear
Two 5 pt. majors