AM/CAN CH. Laurado's What 'N Blazes
"Dart"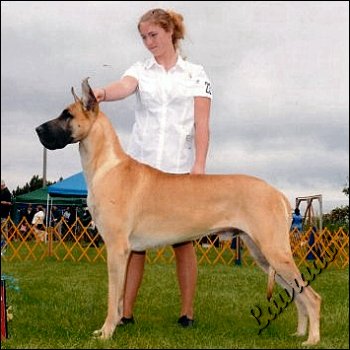 Champion Laurado's What 'N Blazes finished his championship with 4 majors at the
Portland Rose City Classic Dog Shows (Dane entry: 53).

He was shown start to finish by his best buddy 16 year old Shannon Edwards.
He was also Best Bred By at the Willamette Valley Specialty the same weekend.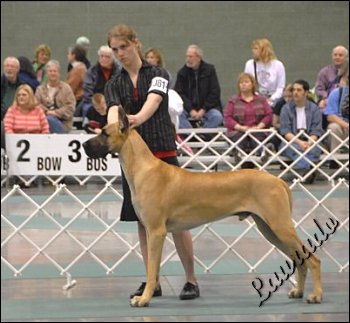 At 17 months old Dart had 13 points with 3 majors.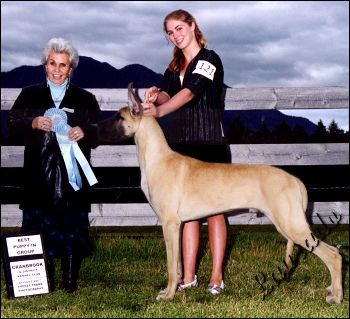 Puppy Group 1st in Canada
Pointed in the US from Puppy Classes
Photo above taken at 7 months old in August 2007
Cranbrook & District Kennel Club
Health Test Results
Test
Rating
CERF
#GD-1900/2008-13
Cardiac OFA
Gd-CA1797/24M/P-VPl
Hips OFA
GD10755G24M-VPl
Thyroid
Normal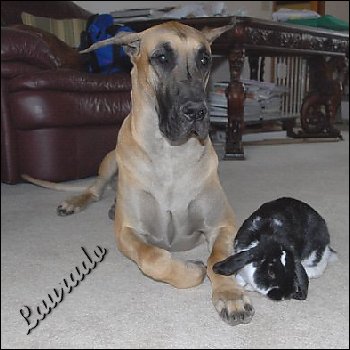 "Bugs" the bunny came to us after being abandoned.
"Dart" adopted him so of course, he had to stay.
PEDIGREE
Sire
BIS BISS AMER. CAN. CH. SASDANIA-VITAG'S FROZEN ASSET

#1 USA 2006
National Top Twenty Winner 2006
OFA GD-8559E28M-Pl Hips Excellent
OFA Cardiac GD-CA440/28M/C-Pl Normal
OFA GD-EL558M28-Pl Elbows Normal
CERF'd

Sire
JAP. & AMER. CH. HAUERDANE'S PUMP-N-IRON

Sire
CH. ZARLIN'S SOLDIER BOY

OFA GD-6277E25M Hips Excellent

Sire
CH. SERVADEIELECTA KAHNSONOFTHOR

OFA GD5020G26M Hips Good
OFA Elbows Normal
CERF
Lived to be 10 years and 2 months old

Dam
CH. ZARLIN'S FANCY FOOTWORK

Dam
Hauer-Deja's Maryl-N'-Monroe

OFA GD-6134G31F Hips Good
Sire
Fantasia's Fawn Corleone
Dam
Hauer-Deja Over The Rainbow
Dam
AMER. CAN. CH. SASDANIA'S CARIBBEAN QUEEN

OFA6975G39-F-T Hips Good
OFA Cardiac Normal
OfA Thyroid Normal

Sire
CH. SASDANIA'S LAISSEZ-FAIRE

OFA GD6024G37M-T Hips Good

Sire
CH. HALEMOSS ROJON DOUNREAY

OFA4940E26M Hips Excellent
Dam
Sasdania's Olivia of Skydane
Dam
Can CH. SASDANIA'S COVER GIRL

OFA GD7382E96-F-T Hips Excellent

Sire
Sasdania's Omen
Dam
Karla Sas Von Kenzbock
Dam
AMER. CAN. CH. LAURADO'S HI MYNT'NANCE WOMAN ROM

OFA GD9183G34F-Pl Hips Good
Thyroid Normal
OFA Cardiac GD-CA542/14F/C-Pl Normal
CERF GD-872/2002--6

Sire
BIS BISS AMER. CAN. CH. WYNTREBROOK'S SUN DANCER

1998 National Top Twenty Winner
1998 #2 Stud dog
1999 BoB Westminister
OFA GD5955G24M Hips Good
OFA Cardiac GD-CA17/29M/C Normal
Thyroid Normal


Sire
CH. MAITAU'S TOP BILLING

OFA GD-5137G35M-T Hips Good

Sire
CH. SANDALE'S WHAT A GUY




Dam
Maitau's Village Gossip

Dam
CH. WYNTREBROOK'S WYNDANCER

Sire
CH HONEY LANE'S CASABLANCA

Dam
CH. WYNTREBROOK'S WHITNEY

Dam
CH. LAURADO'S IRISH MISTIQUE

Hips X-rayed Normal
Thyroid Normal
CERF GD-873/2002--35

Sire
BISS CH. OAKSTONE'S ROCK OF GIBRALTAR

#1 Male USA 1997
National Specialty Winner
Bob Westminster
OFA GD-6733G47-M-T Hips Good

Sire
CH. OWLWATCH AZTEC SUN

1994 National Specialty Winner
OFA GD4986F33M Hips Fair
CERF GD-359

Dam
CH. LIMERICKS LOVESONG

Dam
CH. LAURADO'S IRISH MS TEEGAN

Hips X-rayed Normal
CERF GD-357/96-21

Sire
CH. TEMPLE DELLS LAURADO DAVIS

Group Winner & Placer
Hips X-rayed Normal
CERF GD-343/96-42

Dam
McMurtry's Lass of Laurado

Two 5 pt. majors
Hips X-rayed clear