Bronze Level Am. GCH Can. GCH BISS (National) RBIS Ch.
Laurado's Unchained Melody
"Mel"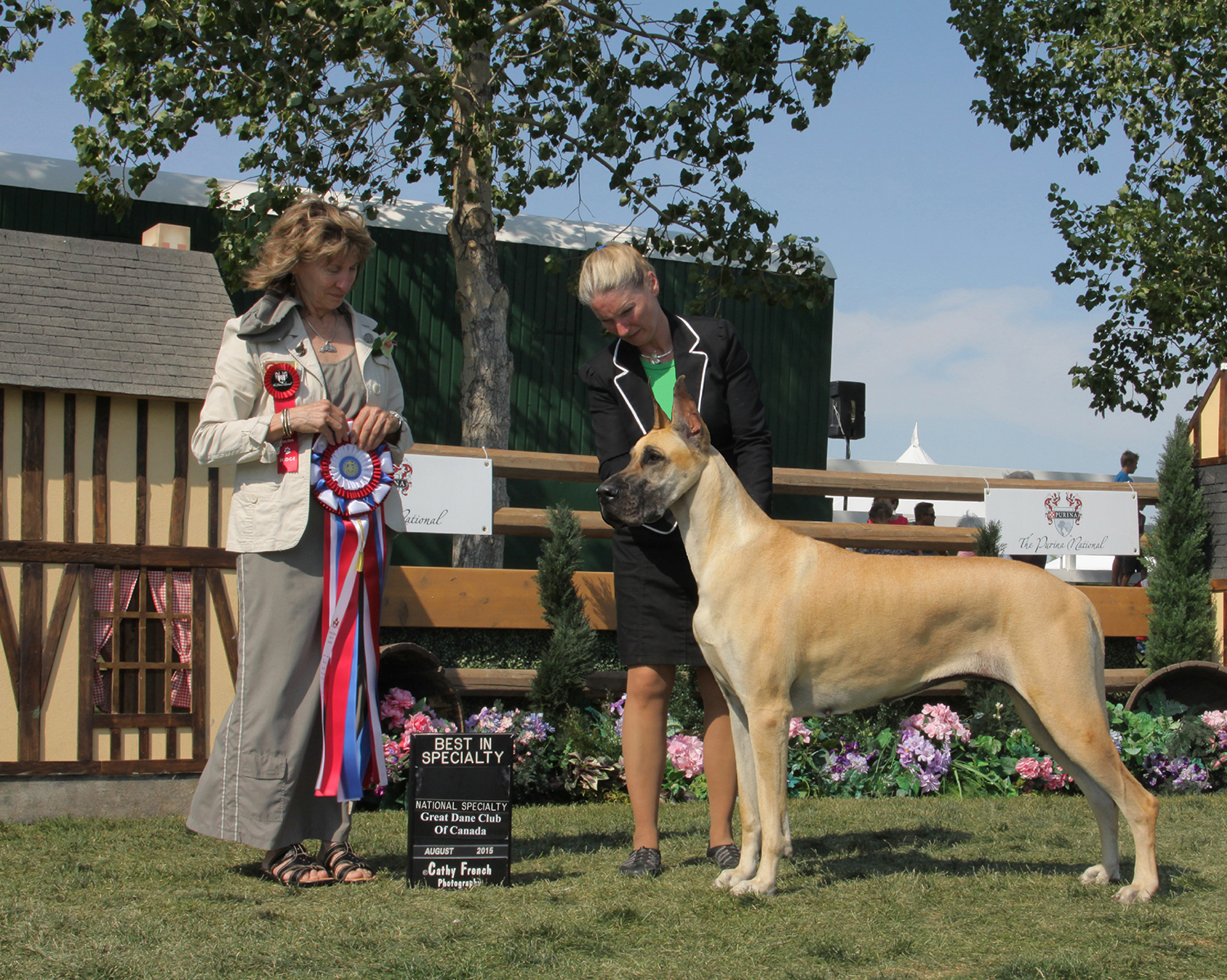 2015 Canadian National Best in Specialty over 30+ Specials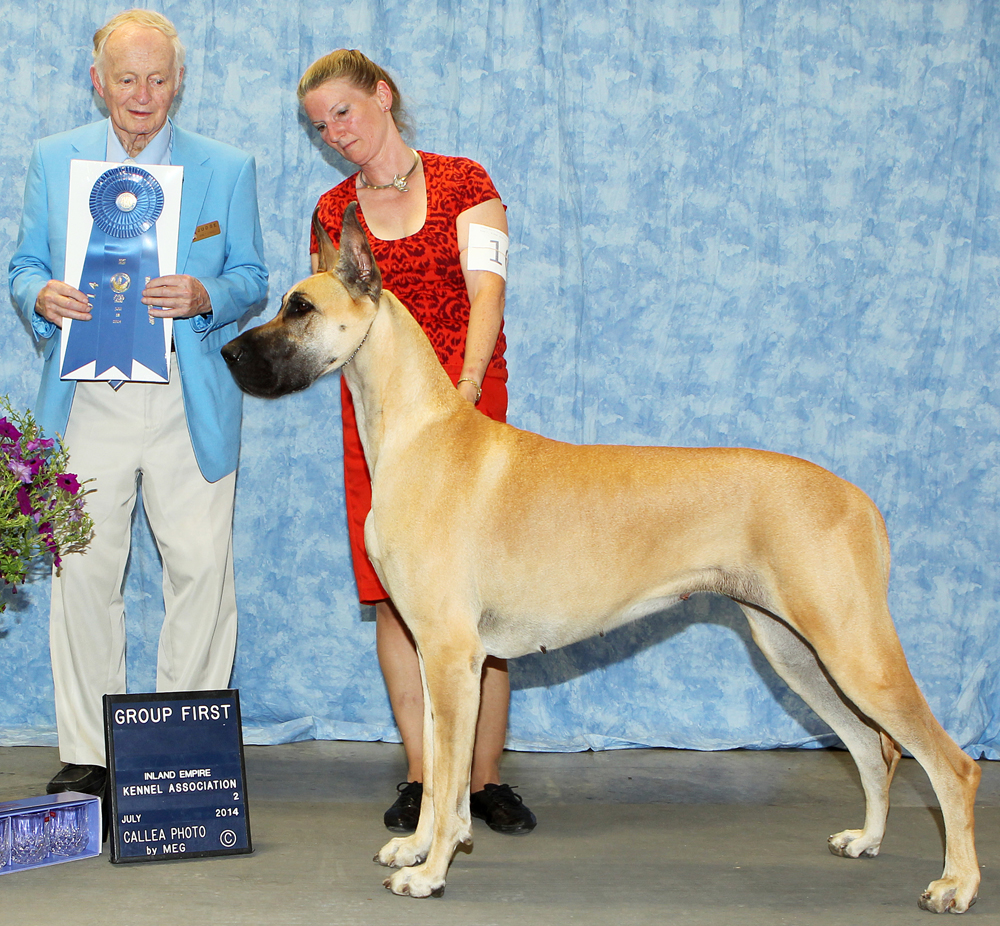 A Group 1st and a Group 4th in one weekend.
"Mel" was in the Top Twenty Five Danes in the U.S. most of 2014 shown very sparingly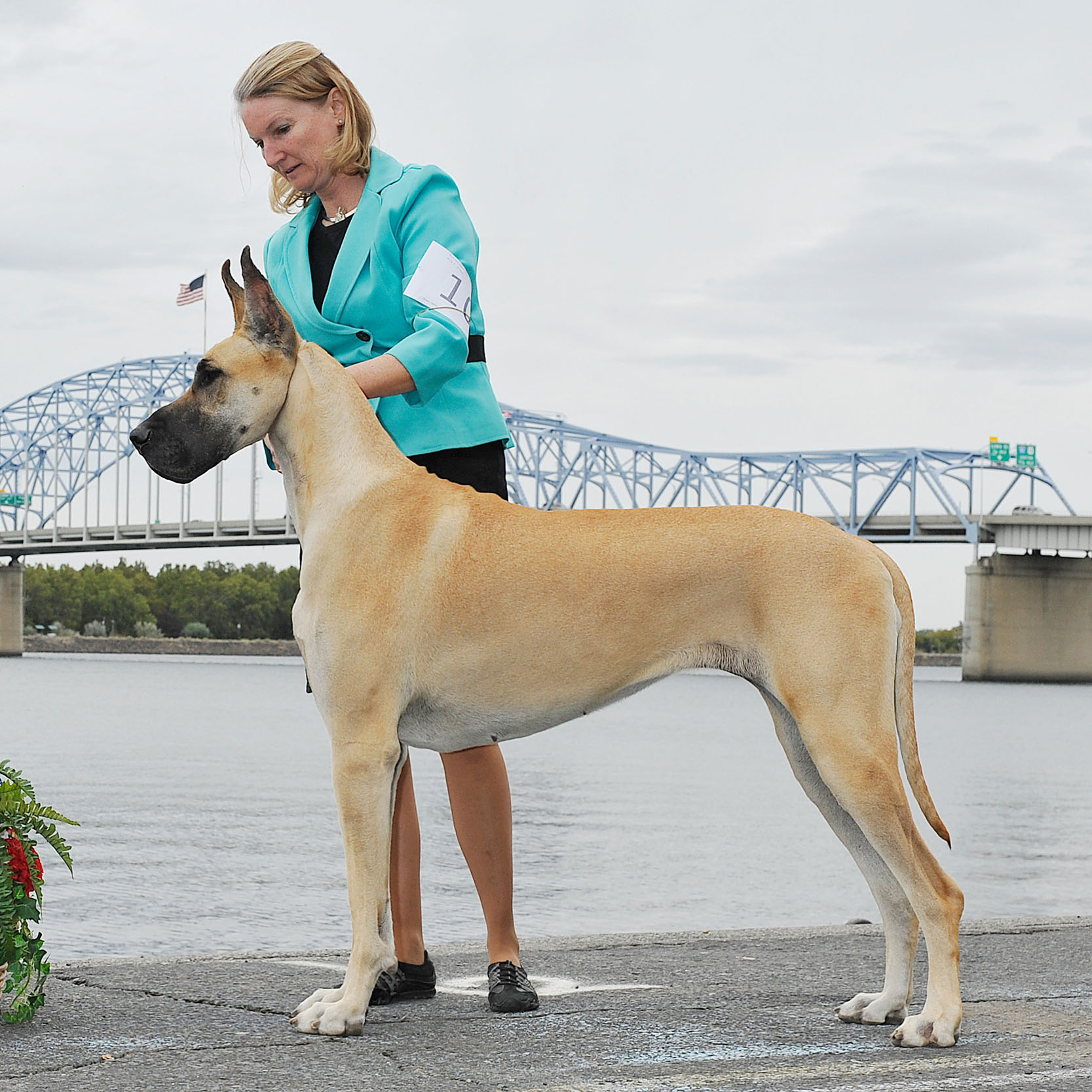 ........ and a Grand Championship at barely two years of age with very limited showing.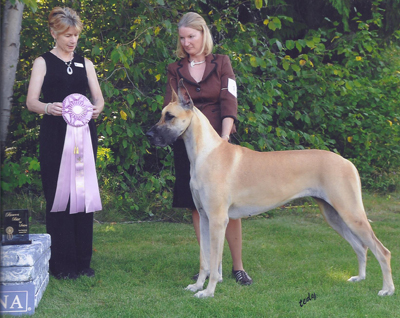 "Melody" finished her Canadian championship with two Group 1's and a Reserve Best In Show.
Moved up into the Breed the next day, she added a Group 3.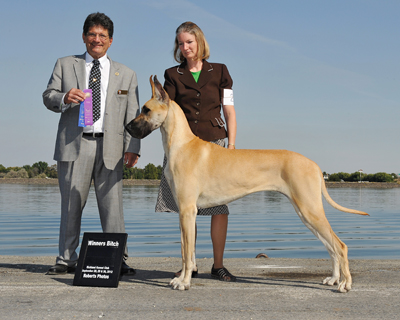 A second major for Melody at age one year old, giving her 12 points with both majors. 
She then stayed home for 5 1/2 months over the winter of 2012, came out for one show March 2013, and finished with a 4 point major.
She's added a Group placement since then.

"Melody" won Canadian points in a big way by winning Winners Bitch, Best of Winners and
Best Puppy at the Canadian National at 10 months old in Calgary, Alberta Aug. 5th, 2012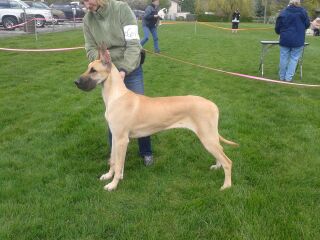 Age 7 months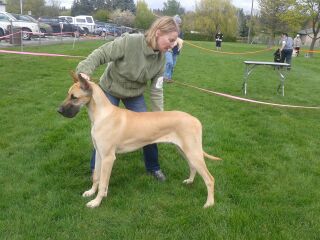 "Melody" started off with a bang capturing a Best of Breed from the 6-9 month puppy class over
2 Top Twenty specials for a major and Winners Bitch the following day for another 2 points. 
It was both "Melody's" and 14 year old handler Mary Lyden's first time in the ring.
DOB: 9-10-11.
Ch. Temple Dells Laurado Davis  X  Ch. Laurado's Glowing Ember
Health Test Results
Test
Rating
CERF
GD-368290
OFA Cardiac   
Normal GD-CA2986/12F/C-VPl
OFA Hips
Good GD-12575G28F-VPl
Thyroid
Normal
Pedigree
Sire
CH. TEMPLE DELLS LAURADO DAVIS

Hips X-rayed Clear
CERF GD-343/96-42
Lived to Age 9 Yrs 10 Months

Group Winner & Multiple Group Placer
WP46252403

Littermate To:
BISS Ch. Temple Dell Del Oro Sydny Davis
BISS Ch. Temple Dell's Samson Davis (OFA Good)
Ch. Temple Dell Noelle Davis Etal (OFA Good)
Ch. Temple Dell's Firestorm

Sire
BIS CH. DON-LU'S PREFERRED RISK

OFA Hips Good 4362G40M

#1 USA 1991 Group System
#2 Stud Dog 1994
Sire
CH. GYPSY LANE'S DAVEY CROCKETT

OFA Hips Fair GD-3578
#3 Stud Dog 1987
Sire
BIS CH. MOUNTDANIA'S ASHLEY
OFA Hips Normal
#1 USA 1979,
Sire 36 Ch.
Dam
Gypsy Lane's Amber Sylvia
Dam
BIS CH. DON-LU'S JUST IN TIME

#1 USA 1986
Sire
CH. REANN'S FRENCH ARISTOCRAT
#1 Stud Dog 1984,'85,'86. Sire 42 Ch.
Dam
CH. MOUNTDANIA'S DANA
Top Producer 10 Ch.
Dam
BISS CH. TEMPLE DELL'S STARFIRE

OFA Hips Good GD4746G27F
Sire
BISS CH. BRIER-CHANEY'S JUDGE 'N JURY

OFA Hips Excellent GD-4214E25M
Top 5 USA 1991
#5 Stud Dog 1992
Sire
BIS CH. SHEERWATER GAMBLE ON ME
OFA Hips Good GD3562
#1 USA 1985,'87. #2 1986
#1 Stud Dog 1991, #2 '89,'90
Dam
CH. HALLMARK DEL ORO JACKIE O S.D.S.
OFA Hips Excellent GD3700E24F. #3 Dam 1990
Dam
BISS CH. DEL ORO HALLMARK TEMPLE FIRE

National AOM Winner
Lived to age 12
Sire
CH.DEARDANE'S MACMANUS MACLIR
OFA Hips Good 3642G26M
Dam
BISS CH.DEL ORO'S SUNFIRE D'TOPKE
Mult. Group Winner. Lived to age 13
Dam
CH. LAURADO'S GLOWING EMBER

OFA Hips Good GD-11502G49F-VPl
OFA Cardiac Normal GD-CA1704/19F/C-VPl
CERF GD-2030/2008--20
WS20442303
Sire
BIS BISS AM.CAN. CH. SASDANIA-VITAG'S FROZEN ASSET

OFA Hips Excellent GD-8559E28M-Pl
OFA Cardiac Normal GD-CA440/28M/C-Pl
OFA Elbows Normal GD-El558M28-Pl
CERF'd
Sire
JAP. AM. CH. HAUERDANE'S PUMP-N-IRON

Hips X-rayed Normal
Thyroid Normal
Sire
CH. ZARLIN'S SOLDIER BOY
OFA Hips Excellent GD-6277E25M
Dam
Hauer-Deja's Maryl-N-Monroe
OFA Hips Good GD-6134G31F
Dam
AM.CAN. CH. SASDANIA'S CARIBBEAN QUEEN

OFA Hips Good 6975G39-F-T
OFA Cardian Normal
OFA Thyroid Normal
Sire
CH. SASDANIA'S LAISSEZ-FAIRE
OFA Hips Good GD6024G37M-T
Dam
Sasdania's Cover Girl
OFA Hips Excellent GD7382E96-F-T
Dam
AM.CAN. CH. LAURADO'S HI MYNT'NANCE WOMAN ROM

OFA Hips Good GD9183G34F-Pl
OFA Cardiac Normal GD-CA542/14F/C-Pl
CERF GD-872/2002--6
#2 Dam 2010
Sire
BIS BISS AM.CAN. CH. WYNTREBROOK'S SUN DANCER

OFA Hips Good GD5955G24M
OFA Cardiac Normal GD-CA17/29M/C
1998 Nat'l Top 20 Winner, 1998 #2 Stud Dog, 1999 BoB Westminster
Sire
CH. MAITAU'S TOP BILLING

OFA Hips Good GD-5137G35M-T
Dam
CH. WYNTREBROOK'S WYNDANCER
Dam
CH. LAURADO'S IRISH MISTIQUE

Hips X-rayed Normal,CERF GD-873/2002--35, Thyroid Normal
Sire
BISS CH. OAKSTONE'S ROCK OF GIBRALTAR
OFA Hips Good GD-6733G47-M-T
#1 Male USA 1997
National Specialty Winner
Bob Westminster
Dam
CH. LAURADO'S IRISH MS TEEGAN
Hips X-rayed Normal CERF GD-357-96-21