Silver Level Am. GCH & Can. MBISS (Nat'l) 
Laurado's Dragonfly

"RITZ"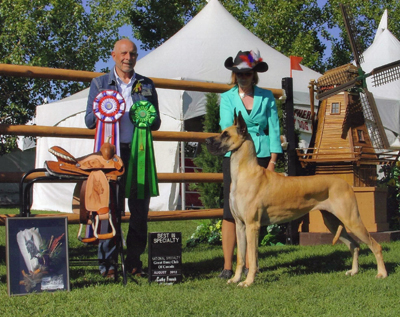 "Ritz" won the Canadian National Aug 5, 2012.  Thank you judge Cresci for honoring her.

Another Group 2 for Ritz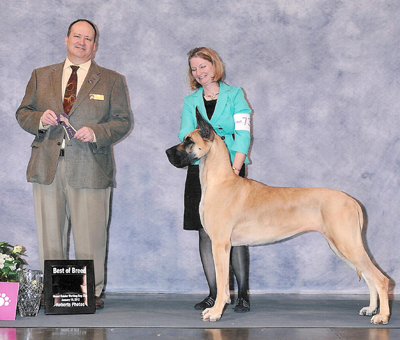 Ritz took 2 Best of Breeds, 2 Best Opposites, & 1 Select at the large
Portland Rose City Classic shows. This popped her up to the country's #2 Dane position in January 2012.
Shown sparingly, she was also in the Top Twenty from Jan. through May of 2011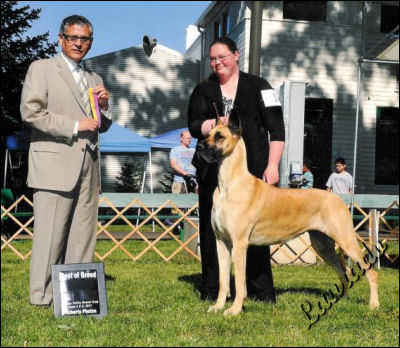 What do you do if "Mom" can't make it to the Yakima show?
You go with your friend Sandy Elliott and win the Breed!
Sandy is the 3rd person to take "Ritz" into the ring and win the Breed.
Ritz doesn't care who takes her as long as she gets to go.
With very limited showing "Ritz" has consistently been one of the top winning bitches in the Pacific Northwest.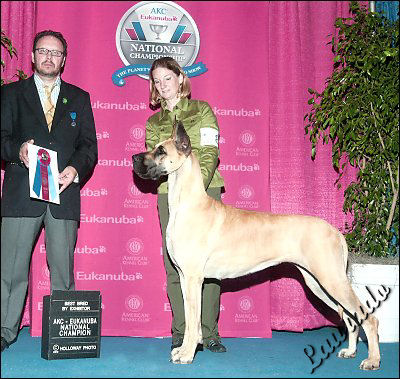 Ritz is pictured above winning Best Bred By Exhibitor at Eukanuba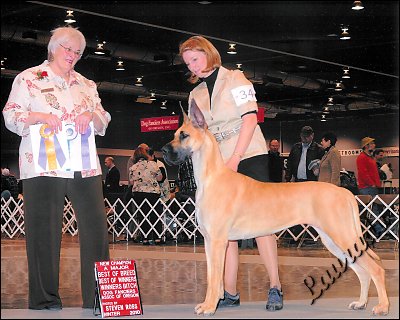 "Ritz" finished with a bang with a Best of Breed over 9 champions out of Bred By class - Dane entry of 53.
She then took 2 Best Opposites to a Top Twenty dog the next two days.
Ritz makes the 4th straight generation of champion Laurado girls.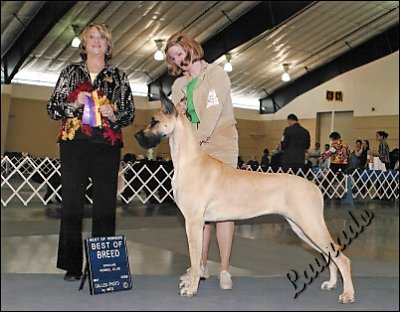 Ritz gained her Canadian championship in 3 straight days
including Best In Sweeps, WB & BoS at the GDC of BC Specialty.
Ritz also has 2 Breeds in Canada.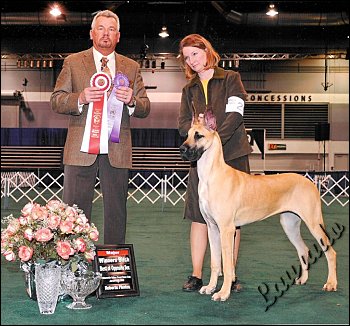 Ritz took Winners Bitch, Best Opposite Sex and Best Bred By for a major
at the Willamette Valley Specialty 1/15/09 her first weekend out at 8 months old.
DOB 5-09-08
PEDIGREE
Sire
BIS-BISS CH. SERVADEI ELECTA KAHNSON OF THOR

OFA Hips Good
OFA Elbows Normal
CERF GD-183 (92,95,97)
Sire 24 Champions
Lived age 10 yr 2 mo

Sire
CH. WARWICKS THOR BODANE

OFA Hips Fair
Sire
CH. SHEENWATER GAMBLE ON ME

OFA Hips Good
Sire
CH. REANN'S FRENCH ARISTOCRAT
Dam
CH. STONE RIVER'S DELTA DAWN
Dam
CH. WARWICKS AMPLE DUMPLING

OFA Hips Excellent
Sire
CH. BRIER'S DUESENBERG V HAUER

OFA Hips Normal
Dam
CH. WARWICKS HESTER
Dam
CH. WARWICKS JELLY SIDE DOWN

OFA Hips Excellent
Sire
CH. PENEDANE WINFAL EXACTA V MAKO

OFA Hips Excellent
Sire
CH. SHEENWATER GAMBLE ON ME

OFA Hips Good
Dam
CH. SALTWATER'S DOUBLOON
Dam
CH. KAIDANE WARWICK NOCHEAPDATE

OFA Hips Good
Top Producer USA 1990
Sire
CH. WARWICK'S GRUMMAN
Dam
CH. KAI-DANES LINA B LOVETT

Hips X-rayed Clear
Dam 9 champions
Lived 11+ yrs.

Dam
AM. CAN. CH. LAURADO'S HI MYNT'NANCE WOMAN ROM

OFA Hips Good
OFA Cardiac Normal
CERF GD-872/2002-6
Thyroid Normal

Sire
BIS-BISS AM. CAN. CH. WYNTREBROOK'S SUN DANCER

OFA Hips Good
OFA Cardiac Normal
Thyroid Normal
1998 National Top Twenty Winner
1998 #2 Stud Dog USA
1999 Westminster BoB Winner

Sire
CH. MAITAU'S TOP BILLING

OFA Hips Good

Sire
CH. SANDALE'S WHAT A GUY

Dam
Maitau's Village Gossip ROM

1993 GDCA Top Producing Brood Bitch


Dam
CH. WYNTREBROOK'S WYNDANCER

Sire
CH. HONEY LANE'S CASABLANCA




Dam
CH. WYNTREBROOK'S WHITNEY

Dam
CH. LAURADO'S IRISH MISTIQUE

Hips X-rayed Normal
CERF GD-873/2002--35
Thyroid Normal

Sire
BISS CH. OAKSTONE'S ROCK OF GIBRALTAR

OFA Hips Good
#1 Male USA 1997
National Specialty Winner
Westminster BoB Winner

Sire
CH. OWLWATCH AZTEC SUN

OFA Hips Fair
CERF GD-359
1994 National Specialty Winner

Dam
CH. LIMERICKS LOVESONG




Dam
CH. LAURADO'S IRISH MS TEEGAN

Hips X-rayed Normal
CERF GD-357/96-21


Sire
CH. TEMPLE DELLS LAURADO DAVIS

Hips X-rayed Clear
CERF GD-343/96-42
Group Winner & Placer
Lived 9 yr 10 mo


Dam
McMurtry's Lass of Laurado

Hips X-rayed Clear
Two 5 pt. majors